Château du Baffy Gîte
Self-catered accommodation in Normandy. Sleeps up to 12 people.
Château du Baffy
Adjacent to the Château du Baffy with its own restaurant, lounge and bar
With use of the Château du Baffy's private grounds
Set in the beautiful Normandy countryside
Château du Baffy Gîte Overview
The gîte sleeps up to 12 and is located alongside our magnificent Château du Baffy which is ideally situated in the traditional Normandy hamlet of Colombiers-sur-Seulles between Bayeux and Caen, 15 minutes from the seaside resort of Courseulles and... some 5km from the Normandy Landing beaches and the village of Cruelly where the castle featured as the WWII communications hub for the BBC. The gîte is self-catered, but you can also enjoy the excellent cuisine in our elegant speciality restaurant. There are 5 bedrooms and 2 shower/bathrooms, an open plan lounge with log burner and a new country style kitchen. Guests can enjoy the gîte's courtyard terrace with steps leading to the Château gardens. Parking is also available. If you're a keen golfer there are many courses to choose from - for more information, please visit our Golf section.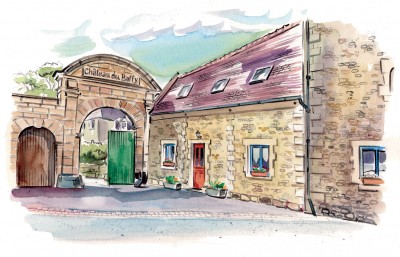 Gallery
New country style kitchen
Open plan lounge with log burner
Adjacent to the Château du Baffy
Chateau restaurant with excellent cuisine prepared by French chef Thierry
A 15 minute drive from the sandy beaches of Courseulles-sur-Mer
American Cemetery - 35 minutes away
Courseulles-sur-Mer harbour
Bedrooms
First floor: 2 twin room + separate bathroom + separate WC
Second floor: 1 double room, 1 twin room + separate shower room and WC
Top floor: 1 triple/quad room en-suite
Château du Baffy Gîte - Location &amp attractions
The Local Area
The Château Gîte is only a 15 minute drive from the beach of Courseulles-sur-Mer, which you can see in the picture above. It is renowned for being one of the most beautiful and unspoilt coastlines of France and is perfect for a stroll along the promenade.
This stretch of beach is world famous for being one of the five main landing sites (code name 'Juno Beach') used during the Allied invasion of the coast of Normandy on D-Day during World War II. The Juno Beach Centre/Museum is located just a 5 minute walk from the villa and is well worth a visit. It houses a temporary exhibition and a permanent exhibit consisting of WWII documents, photographs, maps, artefacts, audiovisual and audio accounts.
Courseulles-sur-Mer town is small but lively with a number of interesting shops, excellent restaurants, cafés and bars.
There are plenty of facilities for sport such as tennis courts, a sailing school, a horse riding school, a football stadium, a multisport hall and a heated outdoor swimming pool (open summer months only).
Other actitivites include:
Mini-golf
Ten-pin bowling (8 international bowling alleys)
Mini-train rides in the 'Song of the Birds' Park (summer only)
Sea Life centre
Cinema (Cinéma de la Gare)
OMAC (cultural centre)
Local market (Tuesday and Friday mornings)
Heated outdoor swimming pool (summer only)
The Region
Normandy is made up of five rich and varied counties each offering something unique. The stunning beauty of the region, with its thatched cottages, traditional farming and ever-changing landscapes, is matched by a long coastline which stretches from the romantic cliffs and sandy beaches of Seine Maritime in the east, to the wild Cotentin seaboard and the World Heritage Site of Mont Saint Michel and its bay, with its huge tidal range and strong currents. From the seaside coast to the fantastic countryside, you will discover a multitude of outdoor recreation adventures, outstanding parks and gardens, rivers and beaches, spectacular sightseeing, historical landmarks and much more. The nearby city of Caen, famous home to William the Conqueror has many high end shops and restaurants.
Places of Interest:
• Caen • Deauville • Rouen • The Bayeux Tapestry • Arromanches • Falaise • The Normandy Beaches • Calvados Distillery • Sweet Factory • The Bell Foundry & Copper Workshop • Goat Cheese Farm • Cider production • Maison de la Mer
Family Fun:
• Alligator Bay • Champrepus Zoo • Zoo de Jurques • Parc Zoologique de Cerza • Festyland • La Cité de la Mer • Ludiver • The Elves Forest • Le Village enchanté de Bellefontaine
Full Day Excursions:
• Villedieu-les-Poëles - Visit the Bell Foundry, the Copper Workshop and then continue to Mont St Michel • Mont St Michel - known as the eighth wonder of the world. • Paris - The Métro provides a frequent service making it easy to explore the city. We recommend a visit to the Sacré Coeur and Montmartre, a cruise down the Seine and a trip up the Eiffel Tower.
Château du Baffy Gîte - History
The Château du Baffy — 280 years old and still going strong...
Originally a mill driven by the Seulles River, the Château du Baffy was built around 1735, with extensions added in the late 18th and early 19th Century. The mill was dismantled in 1840, but some remains are is still visible. In the 1960s the Château was converted into a hotel.
During the Second World War the the Château's owners were the Vignerol family who all refused to depart when the Germans overran the area using our fine manor house as headquarters.
Our Château experienced an incredible journey during WWII. The following paragraphs tell a little of its story:
"During the war the hamlet of Colombiers-sur-Seulles and those surrounding it, were occupied by the Germans. However in June 1944, Colombiers was liberated. Germans who had been using the château, and hiding in the parks and areas in the lawns, fled the scene, and so those who lived in the chateau celebrated with the soldiers.
"The Château was used as a commune for all alliances – French priests, soldiers and officers of Canadian, American, English and Scottish descent, who came through Colombiers-sur-Seulles, in addition to refugees from nearby towns. They pitched tents in the grounds and were fed, watered, and provided with alcohol. Those from nearby villages, whose own property or towns had been destroyed, also visited the Château. Many of the officers brought tea, chocolate, cigarettes and soap with them.
"At night time, the bombing was at its worst and those who were in the house would run to the trenches for cover. They would keep mattresses there for sleeping. The bombing would be so loud that you had to scream to be heard and the dust would make their eyes water. The sky would light up like fireworks. However, they would usually return to the house for their meals where they would make bread, with enough for meals in the trenches if necessary.
"American tanks were spotted in outside towns including Rennes, and optimism spread within the commune that the war was almost over. The route to Caen was reopened, despite it being in ruins, and everyone celebrated by singing and playing songs on the piano."
– Translated from the diary of a local resident.
Château du Baffy Gîte - Events
There are 34 golf courses in Normandy, 12 of them enjoying sea views, and several of them boast a long history having been founded nearly a century ago. The majority of the courses have been designed by renowned British or American course designers and have improved to offer perfect golfing experiences. Deauville is well known for its luxury courses whilst those further along the coast of Seine Maritime are more traditional and scenic. All of the courses are open to non-members. Click the courses below to find out more.
An amazing 34 golf courses to choose from:
All rates are based on a self-catering basis for 7 nights.
| | |
| --- | --- |
| Season | Gite weekly rate |
| Low | €750 |
| High | €1500 |
Bedroom overview
First floor : 1 twin room + separate bathroom + separate WC
Second foor : 2 twin rooms + separate shower room and WC
Top floor : 1 double room + 1 triple/quad roomStandard Rate bookings will require a non refundable deposit and will be liable for full charge if cancelled 2 days prior to arrival.
Tourism Tax
Please note that Taxe de sejour is calculated at €0.90 per person, per night for all guests above the age of 14. This is in addition to the above rates and will be added to final bill.
Meals
The restaurant runs every day for dinner and is bookable on the morning at a price of €25 for a three course meal.
Please also note that children under 12 years where an extra bed is added to the room will pay €25 per night B&B. Prices are subject to change and confirmation at time of booking.
Bank Transaction Advice
For non-sterling transactions, made on a debit credit card (i.e. foreign exchange and overseas transactions), banks charge a Non Sterling Transaction Fee (formerly called an exchange rate adjustment) to all customers.We advise you to check with your nominated bank